Sauna bathing is a wellness trend that is shifting from being a spa or gym activity to something that can be done at home. There are several benefits to a couple of 20-minute sessions every week. If you are a fresher though, please start with five to ten minutes and progress incrementally. Apart from being a great way to relax, sauna bathing also has several health benefits.
According to Medical News Today:
It helps those who have sore muscles or pain in their muscles.
It is great for those who experience pain in their joints. It also generally improves joint movement.
It helps alleviate stress.
It is good for your heart health.
It helps reduce psoriasis.
It gives relief to those who have asthma.
It also helps reduce chronic fatigue.
These are all excellent reasons to get a sauna for the home. With more and more people looking for models that are best suited to buy for home use, we decided to take a look at some of the models in the market and help you pick the best.
Consider These
To begin with, we took a look at these three saunas from Certified Saunas and compared their performance. Here are the results (with a little something about what to look for when checking out the specifications of saunas).
Clearlight Infrared Sauna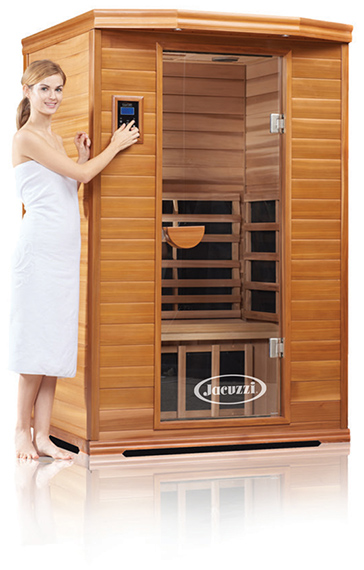 Saunas from this manufacturer have some of the lowest electromagnetic frequencies (EMF) in the industry. These saunas actually reduce both electric and magnetic fields unlike saunas from other manufacturers which mitigate only one of them. These saunas also have a Vibration Resonance Therapy (VRT) option which is for increased relaxation.
The Clearlight Premier IS-2, with its integrated front heaters, has one of the best infrared penetrations which is the core function of infrared radiation saunas. It is large and yet affordable. It is compatible with a 15-amp circuit which is the standard in every house. Typically, larger saunas work with 20-amp circuits and require an electrician to do the installation.
It has low magnetic and electric fields which results in low body voltage. It has an ergonomic backrest and supports chromotherapy lighting. This is the use of different colors to work on different kinds of problems. It is easy to install and has a holder for your phone or tablet so that you can play soothing music or listen to something pleasant while you work on stress relief.
Pros
Even though it is affordable, the company still offers flexible financing options in the UK, New Zealand and Australia.
It is value for money.
There are outdoor weatherproof models.
You can install it yourself.
It is made of eco-friendly cedarwood.
It has an ergonomic backrest.
Cons
These are full-spectrum saunas. This means they do not have the pure infrared output that is good for you.
As you can see, there are a lot more pros than cons which makes this a pretty good low-EMF sauna to buy. This model is for two people and is a popular choice.
High Tech Health Infrared Sauna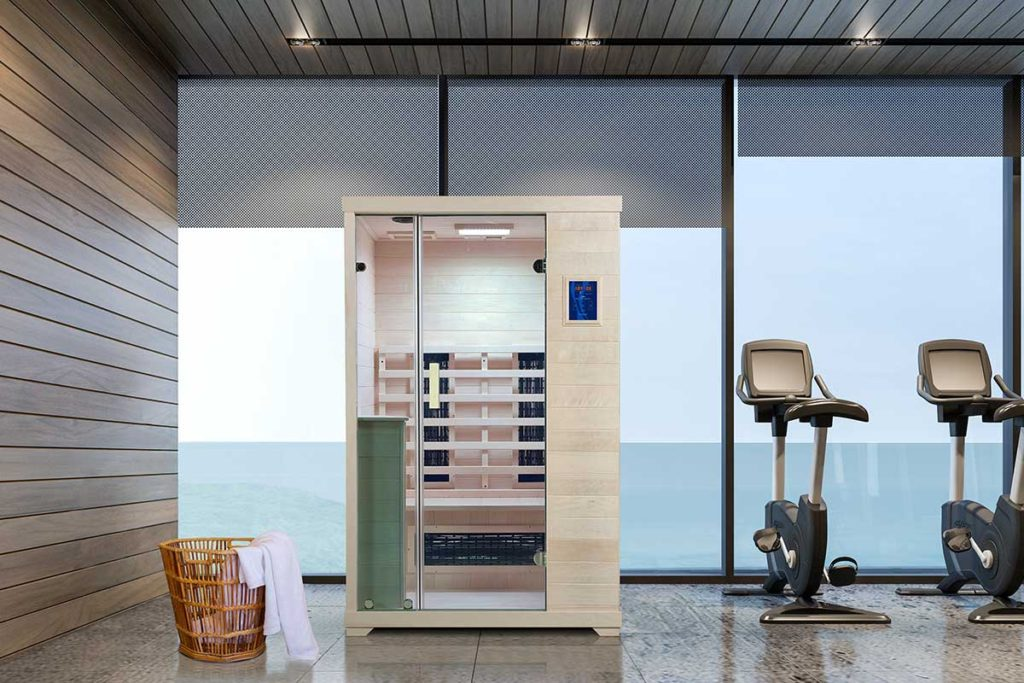 The Transcend TR2 is the second pick and right off the bat, it is great because of its low-EMF levels. It has low electric and magnetic fields and has low radio frequency levels which lead to low-body voltage. If you are looking to buy a ceramic sauna for your home, this is the one. However, this is not entirely problem-free. It is actually quite the task to assemble this sauna. But once you do put it together, here's what you can expect.
The electric field is reasonable and the EMF rating is at 10+ at the heater. This is an old model with a large cabinet and slightly on the expensive side of things.
Pros
It has a large cabinet.
It is available in poplar wood, which is highly stable, easy to work with, can be sawn and sanded and is receptive to paint and staining.
It has low magnetic fields which is better for you.
Cons
It is expensive.
It is an older model.
It is not the easiest sauna to assemble.
When you have an old-ish model like this one, here's a checklist to help you get a good one.
Check and see how old the sauna is. You don't want to get something that the company has stopped paying attention to. This means not only are you missing out on their "new and improved" models but will also have trouble getting help at the first sign of trouble. Customer service will not be of much help and you know how that unfolds.
You must also check the price and see if it is worth your hard-earned money. It is important to reiterate here that this model is old and not inexpensive.
You must check the warranty. If the sauna doesn't come with one, see if you can buy it from the manufacturer. This will be very useful.
Radiant Health Sauna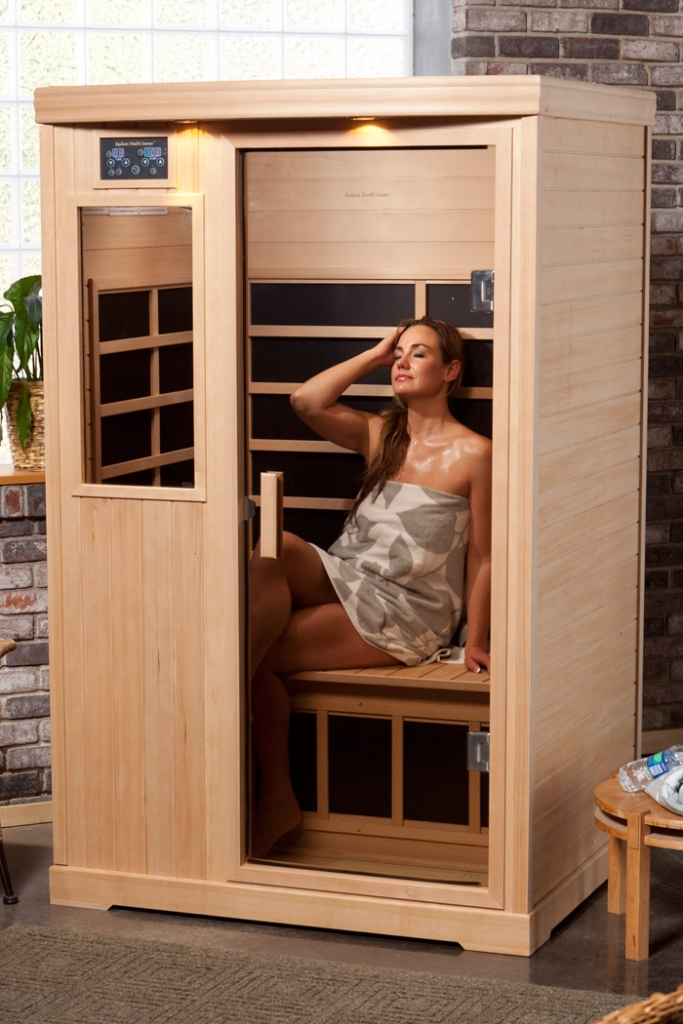 And now, the best for the last. The first thing to know about saunas from Radiant Health is that you must buy them from the website. If you go for Amazon, you might risk falling for a knockout.
Now, the product itself is really good. Radiant Health makes a sauna with one of the lowest EMF far-infrared saunas you can find. The magnetic and electric fields are kept under control while providing a quality experience. There is no radio frequency radiation either. Their aim is to make a product that is healthy for you. So you won't be surprised that apart from being really easy to assemble, Radiant Health saunas are also made from non-toxic, good quality raw materials.
It uses carbon flow technology from Japan. Each carbon panel is spread over a large area and emits wall-to-wall far-infrared heat waves. The aim is to make a sauna with maximum perspiration.
Pros
It has zero radio frequency levels.
One of the lowest EMF levels in the market.
It is probably the easiest sauna to assemble.
It has tile flooring.
It has a bench heater. So you don't have to adjust to get heat all over your body.
It is made of non-toxic raw materials.
It is affordable.
Cons
There is no in-house financing. So you will have to wait till you can finance it yourself.
Our Verdict
Today, there are a ton of options when it comes to buying a sauna for your home. This is true even for those who have figured out what kind of saunas they want. But the fact of the matter is that Radiant Health makes some of the healthiest saunas in the business.