If you are here, you have already made the excellent choice of deciding to buy an infrared sauna for your home. This is a terrific method of stress relief and relaxation. But if you get the wrong sauna, that can turn into quite the nightmare. And to help you avoid that, we took a look at some of the most popular infrared sauna models in the market and did a comparison. Take a look.
A Comparison of Some Popular Models
No one has the interest or patience to read a comparative study of 10 saunas. So we looked around and brought it down to four varieties. We look at their specifications, pros and cons. That will give you an idea but our final verdict is at the very end. Let's hit it.
JNH Saunas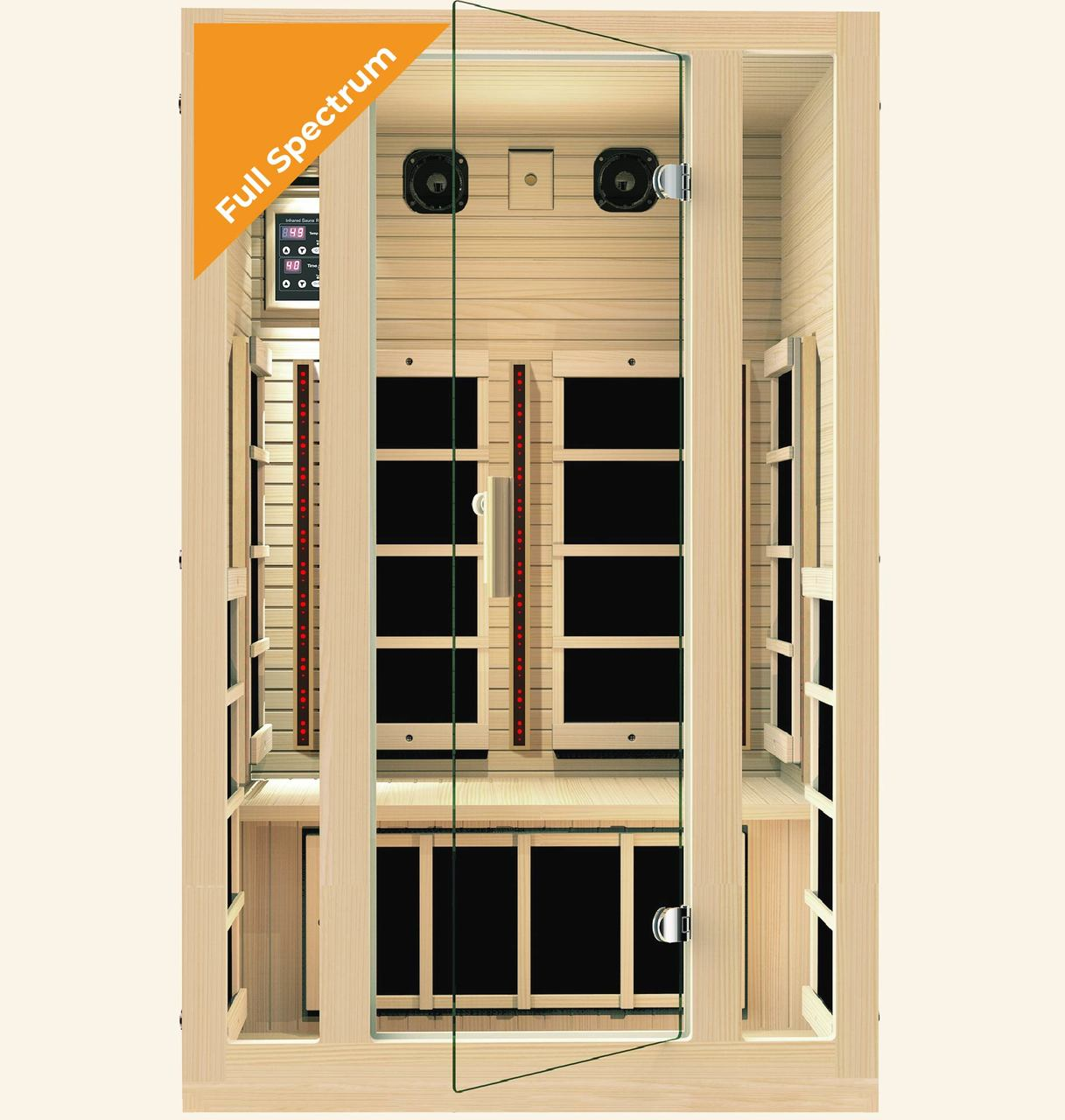 This is a very popular sauna because it is extremely affordable. Unfortunately, that comes at a price. JNH infrared saunas are not the best in the market, to put it subtly. Whether it is the far-infrared sauna models or the full-spectrum ones, there are a lot of problems with the products from this manufacturer.
The build quality is terrible because of the cheap wood from China. This also leads to off-gassing which is the release of toxic chemicals in the form of a gas. The sauna models have high electromagnetic field (EMF) levels which is bad for you. While they are not difficult to assemble (if two of you are doing it), they are a pain if you ever want to move them. You need an electrician to put it together so that the electrical requirements are met without hazardous results. They are too big to fit in an average home. And you must check the floor and buckles to make sure there is no structural damage. Oh! And also, it does not heat that well. So it's pretty pointless.
Pros
Cons
It is made of cheap wood from China.
It is known for off-gassing glues and chemicals.
It has very low-efficiency heaters, which is why it does not heat well.
It has limited warranty.
It does not have low EMF.
It releases volatile organic compounds of VOCs.
All your fears about a cheap product will be realized. The products are often on sale. Don't let that fool you.
Sunlighten Saunas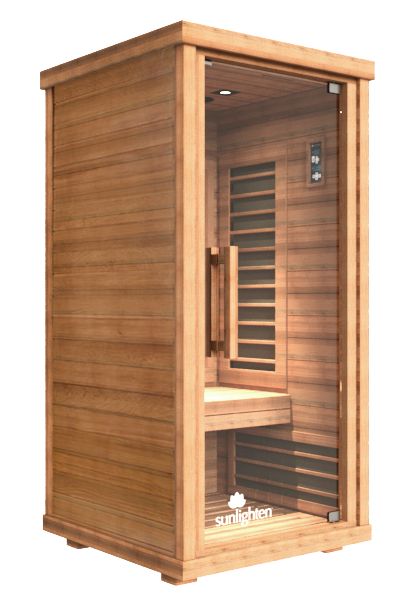 If you want to buy the infrared saunas made by Sunlighten, you must pay careful attention to the specifications. These are full-spectrum saunas which means they deliver near, mid and far-infrared radiation. While it is built with great quality, there are a lot more problems than good features. The electromagnetic frequency (EMF) levels on these saunas are high. That's really bad for you. They are expensive and the salespersons are quite aggressive. But I suppose they have to be if you want to sell a product like this. The merits of the sauna are not going to get the job done. It is made of patented carbon technology so you cannot compare it with anything else to check whether that's good or bad. You can pick cedar or basswood for the body, which is one of the few good things about these saunas along with the fact that it is easy to assemble. They are also a bit expensive for the quality of service these saunas provide.
The company also claims that you can lose weight with sessions in this sauna which is not a scientific fact. You only lose water weight in a sauna which you must gain back by hydrating. Otherwise, there will be serious health consequences.
Pros
It is a full spectrum sauna which delivers near, mid and far-infrared radiation.
It has three heaters in one.
The benches are recliner -style and can be customized if you buy a larger sauna.
The body of the sauna is made of cedar or basswood.
It is easy to assemble and is equipped with a magnetic locking system.
Cons
Their return policy is terrible if you buy from the website. You need to bar shipping costs, pay a three percent fee and a restocking fee.
You will need an electrician to assemble it.
It emits high EMF radiation. The EPA recommends exposure to be from 0.5 mG to 2.5 mG. This one is over 3 mG.
The customer service is average.
Clearlight Saunas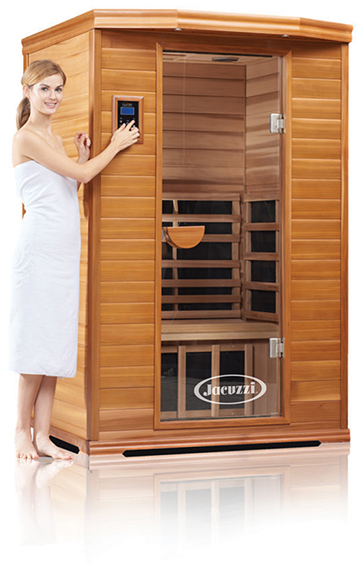 This one is also a very popular brand. It is hard to miss Clearlight Saunas if you have been looking around for a bit. The company is very well known for its Jacuzzis but also has good saunas. The saunas are very sleek and aesthetically pleasing. They are good for folks who want low-intensity heat as opposed to intense sweating. Clearlight saunas can be calm and relaxing. It is one of the most expensive saunas in the industry but has better EMF levels and low volatile organic compounds or VOCs when compared to Sunlighten saunas. So that's something.
Its heaters are a combination of carbon and ceramic. Its body is made of hypoallergenic and chemical-free cedar and spruce wood which gives it a grand look. It has a touch panel with all the controls conveniently in one place along with the ability to give you customized sessions. Some models have a lot more glass than wood. This causes a loss of infrared absorption and heat.
Pros
It is made of hypoallergenic cedar and basswood.
It has a great sound system.
It allows you to customize a session.
It has low volatile organic compounds (VOCs).
It has a range of one to four-person saunas.
Cons
It has better EMF levels than Sunlighten but the latter doesn't set the bar high, to begin with.
It is a little bit on the expensive side of things.
Radiant Health Saunas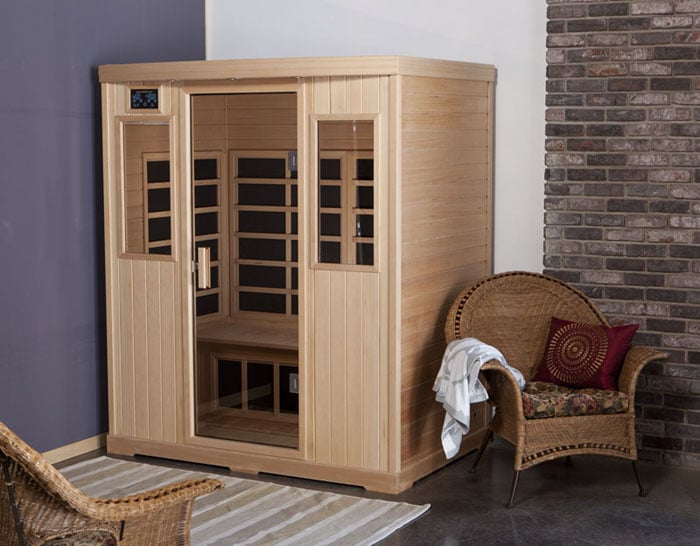 If the above reviews have got you down or worried, forget all about them. Infrared saunas by Radiant Health are a great option. These are ideal for those who like to get in the sauna for some me time. Most of them are small-sized but do have luxurious features just like the larger models. For some, that's the dream. Lack of space is not an issue and it even can be used as a walk-in closet. Well, to some extent anyway.
They use carbon flow far-infrared heating systems. There are heating panels even under the bench which makes heat circulation all over. No more turning and twisting to get equal distribution of heat. You can go for color light therapy every now and then if you get one of these. There are digital controls inside and out of the sauna which, apart from being really convenient, works as a great safety measure too. You don't need an electrician to assemble it. It has a lovely entertainment system that has a CD/AM/FM player. You can connect your MP3 player or an iPod to it. It can be operated with a remote control and the speakers are on the ceiling.
Pros
It has really low EMF levels which is excellent news for your health.
It has low volatile organic compounds which is also great news for your health.
It is totally worth every penny spent on it.
It has an excellent music system that will keep you entertained and occupied while you are in there. And it can be operated with a remote control.
It has a good number of heating panels to ensure that heat distribution is even.
It also has color therapy or chromotherapy.
Cons
If you are buying from the likes of Amazon, you might end up with a counterfeit product if you don't check the specifications carefully. Buy it straight from their website.
In Conclusion
It is quite obvious at the point, hopefully, that there are more than a few options in the market and you need a little bit of technical knowledge to figure out which manufacturer is thinking of your benefit and which one just wants to make some money.
A sauna, infrared or otherwise, is not a small purchase. You spend a few thousand dollars on it and get a big product delivered home which you then might have to assemble yourself. While none of these might be of immediate concern, when you are purchasing large products, you need to have a certain equation of trust with the company. And let's not forget that the first reason to get a sauna is for stress relief and relaxation. If the manufacturer just wants to make profit, you will end up with a giant wooden room of sorts that just sits there occupying space. And that's as far from quiet and peace as it can get with this product.
Radiant Health has been tried and tested by quite a few critics and customers. Most of them, if not all, have come back with very positive reviews. The company seems to know what it is doing, which is giving the customers all the comfort and functionality that an infrared sauna can give while keeping it healthy and affordable. Isn't that what we are all looking for in any product?