Whether you want to indulge in some infrared-heat-lamp therapy on your own or are looking to replace the bulb in your near-infrared sauna at home, a near-infrared-sauna bulb can give you amazing benefits. For this, you need a high-quality product that can deliver on all the promises of a near-infrared sauna.
If you're new to the diy sauna game and don't know where to look, we've got you covered. Here's our list of the best near-infrared sauna bulbs out there!
---
Matts Cliff Notes:
There aren't a lot of benefits from the more expensive bulbs. The companies who say they generate more near infrared on the graph curve, are mostly not being transparent. There is also a difference in wattage not listed on the bulbs themselves (thanks to Andrew for pointing this out)
My preference is:
It's important to note, that I'm not recommending more expensive near infrared bulbs because they'll give you a better sauna experience in the DIY sauna. The benefits I've experienced are much more obscure… such as, colored glass all the way down the neck of the bulb, so that when you install them in a wooden far infrared sauna, or in a near infrared sauna tent, it protects the back wall from getting too hot if you're not using a reflector. This is a small detail, and not a main requirement. Buy what you can afford is my overall stance on bulb recommendations.
---
RubyLux NIR-A
Designed for near-infrared heat lamp therapy, the RubyLux is one of the best bulbs in the market, giving you all the goodness of near-infrared therapy with its healing infrared light and near-infrared waves.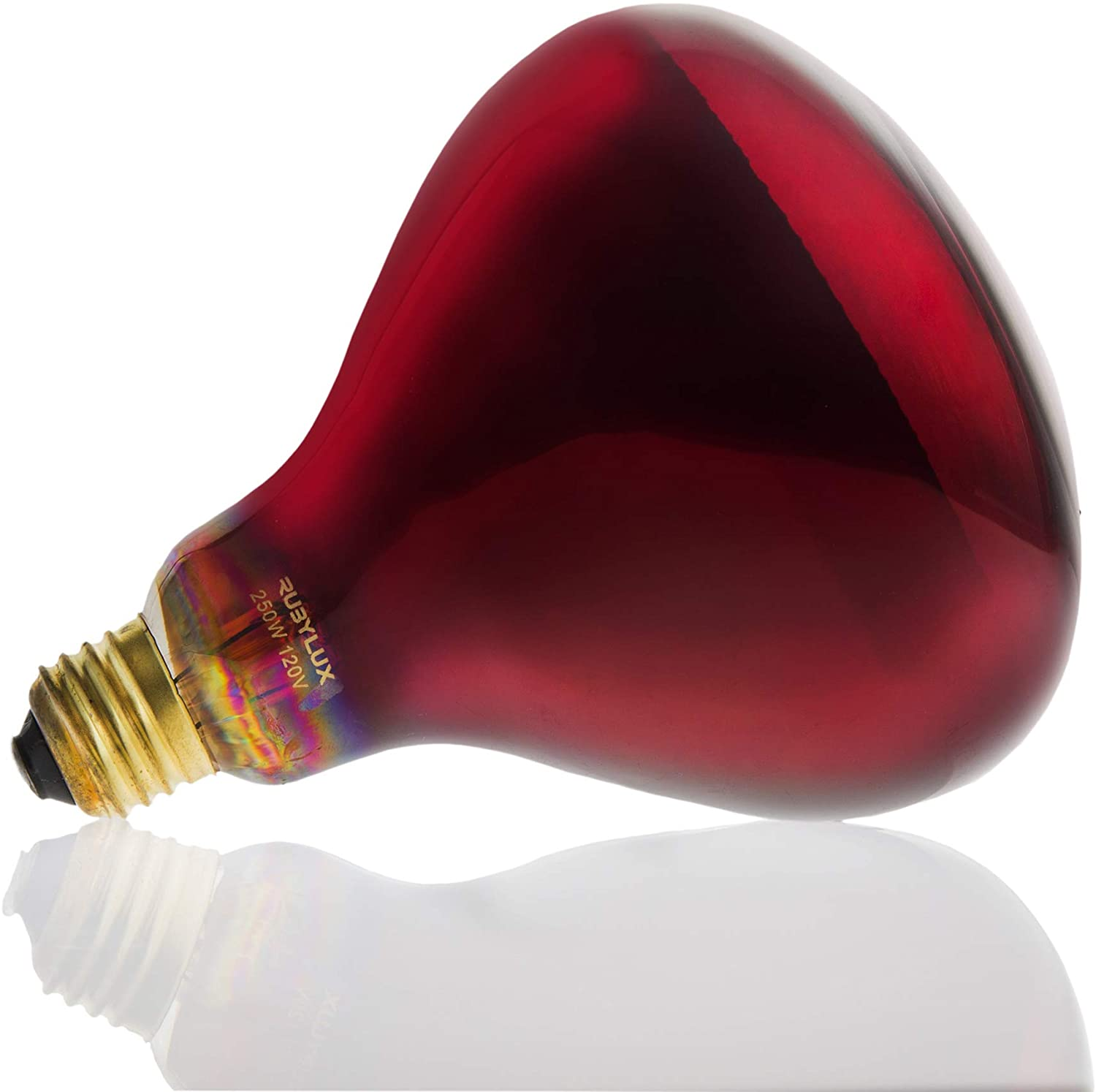 Some of its features include:
Emits 1431 mW/cm square at a distance of 4 inches
Circular treatments area of 15-20 inches
Doesn't require UV-blocking since it doesn't produce UV rays
Super safe as it contains no Teflon, mercury and other heavy metals and toxic compounds
Backed by a 60-day 100% money-back guarantee
CE-certified
Can be used in any lamp or sauna fixture of 25oW
A life of over 2 years
From wrinkles to healing to muscle relief, this bulb promises to provide all the superb benefits of near-infrared saunas, and safe to say, it delivers excellently on this promise! Though some dissatisfied customers do exist, they are well in the minority, and several users can't stop singing the bulb's praises! Give this bulb a try for some great pain relief.
Therabulb NIR-A Near-Infrared Bulb
The Therabulb NIR-A, like the rest of the brand's offerings, is a quality bulb that is designed to emit wavelengths between 700 and 1,200 nanometers, deemed the most ideal. These bulbs come packed with a range of features that enhance their appeal, such as:
Certified free of toxic substances such as heavy metals and polybrominated biphenyls and diphenyl
Utmost compliance with the RoHS directives
Low-EMF bulb
Certified mechanically and electronically safe by the European Economic Area
250W high-intensity bulb with a maximum operating temperature of 572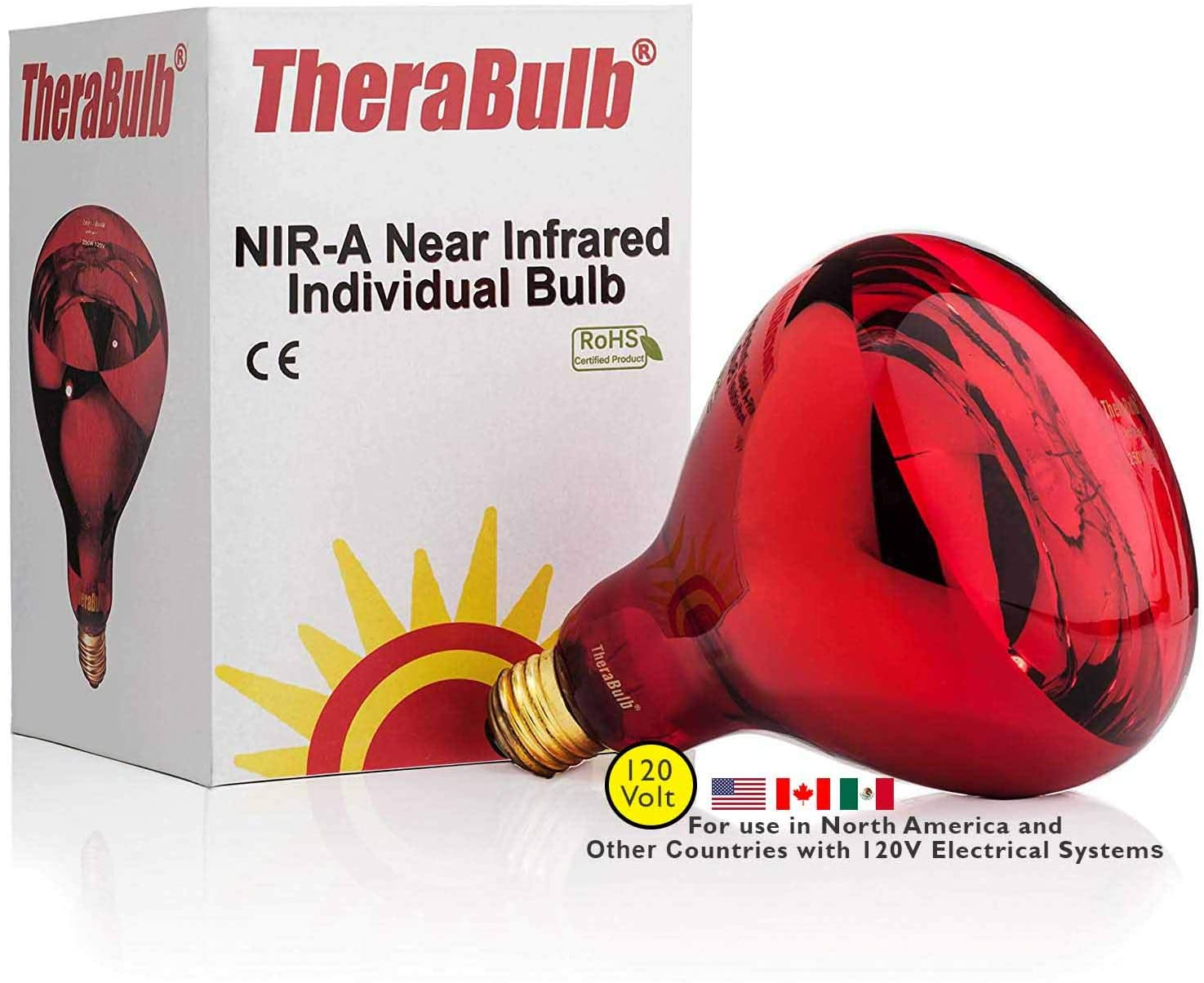 You can use the bulb anywhere you wish, from your bathroom to your bedroom, for a range of benefits, from pain relief to recovery and healing. Definitely a great brand to consider.
SaunaSpace Standard Heat Lamp Bulb
SaunaSpace's bulb in question emits natural broad-spectrum light, from infrared to near-infrared to thermal infrared. These super-cool bulbs have the following features:
Operate at about 850 nanometers and near-infrared light between 600 to 1,000 nanometers
Ultra-low EMF
Provides thermal infrared wavelengths for healing
120 volts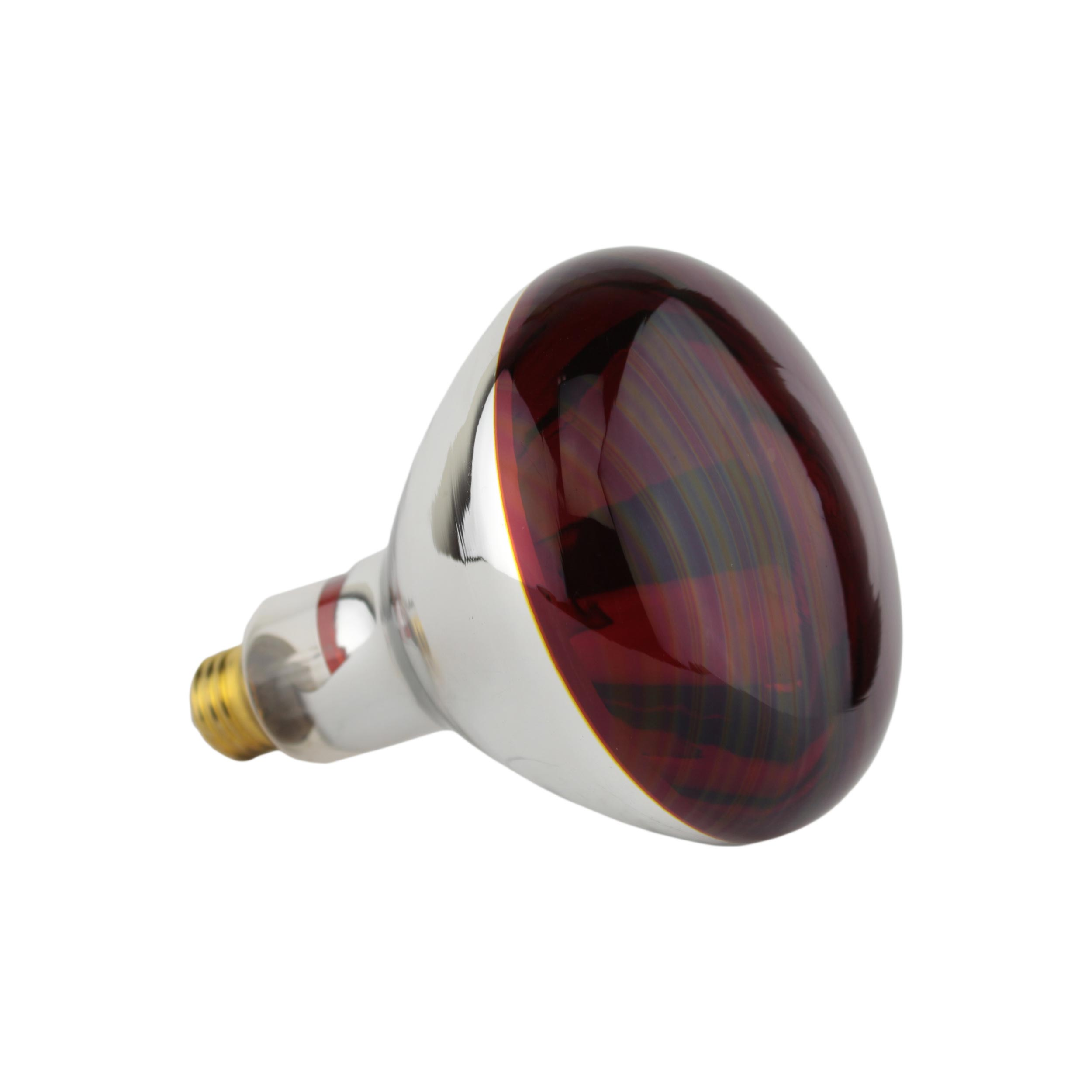 The bulb's emitted wavelengths fall into the "thermal infrared" category, at around 1,150 nanometers, which is the kind of heat that penetrates tissues extremely well. This assures users of super-effective-yet-gentle therapy.
A ton of goodness comes packed into the SaunaSpace Standard Heat Lamp Bulb, so jump right in to enjoy the goodness of some near-infrared sauna heating with this bulb.
Philips Heat Lamp R40
An offering from one of the most trusted electronics brands out there, the 250-watt Philips infrared incandescent reflector lamp works in a range of settings, from tough environments such as farms to gentler home settings like your kitchen and bathroom.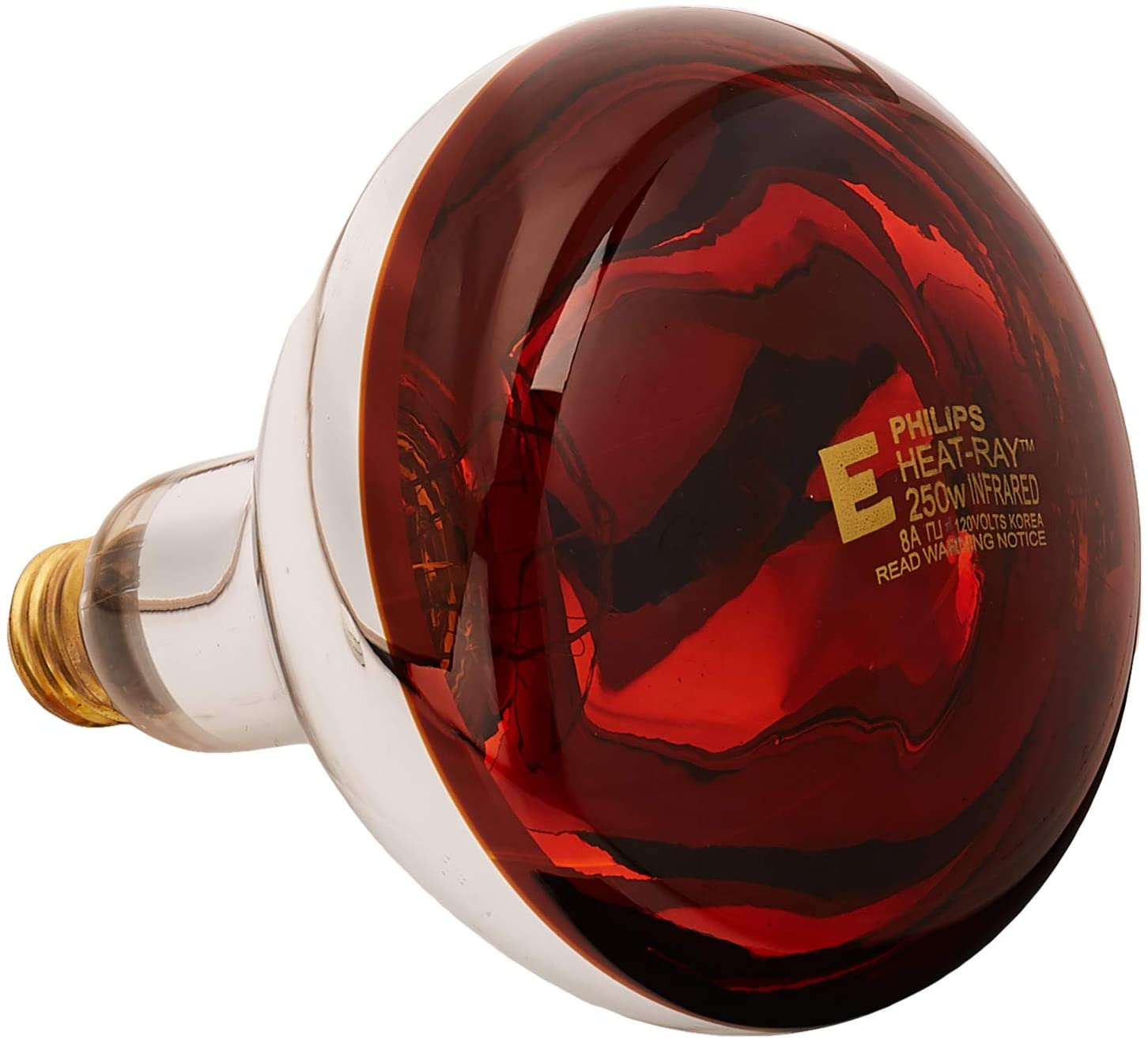 Some of the features of the bulb include:
Reinforced construction for extra durability, minimizing the risk of broken glass
Compatibility with a range of equipment thanks to the universal cap base and compact form
Thanks to a unique reflector system, saves up to 30% extra energy
Concentrated heat can be applied where needed with the well-designed reflector shape
A high amount of efficiency thanks to the PAR38 design (completely sealed reflector)
Easy and fuss-free replacement
The Philips Heat Lamp R40 is a superb source of direct, draught-free warmth, whether it's to rear animals, heal people or grow food. This multipurpose light is definitely worth consideration for your near-infrared sauna purposes.
Fengrun Lighting NIR-A Infrared Bulb
This bulb from Fengrun is a super-effective bulb that works well in a range of settings, just like the Philips R40, from breeding areas to bathrooms. Made of hard glass for durability, the bulb also has the following features:
Available in 75 and 150-watt options
Hard glass makes it waterproof and explosion-proof
Features UV coating
Has a life of 5,000-6,000 hours

Also among the cheapest bulbs out there, this infrared bulb comes with quite a few benefits that make it a great option.
The Bottomline
If you were at a loss earlier as to what near-infrared sauna bulbs you should consider, we hope the task has become considerably easier now! Apart from these, Serfory's Updated Infrared 150-Watt Bulb is also a good option. Remember, whichever bulb you ultimately choose, consider your needs and the quality and safety of the bulb itself. Once you've taken care of those, you'll really see the benefits of near-infrared sauna working wonders on you! If you're looking to build a cheap diy infrared sauna, check out this article here.