If you love the relaxation and benefits offered by sauna therapies, but don't really like the expensive price tag that comes along with these treatments, then the best solution is probably to purchase your personal, portable infrared sauna.
Portable infrared saunas are among the most versatile and useful inventions for people who love to detox regularly and stay healthy but don't have the time and money to go to a spa regularly or space in their homes to install an infrared sauna cabin.
Portable infrared saunas are becoming very popular and you can see why. They are easy to use, flexible, convenient to carry with you while traveling and very easy to store too. So, what is an infrared sauna? Is using a portable infrared sauna really safe?
Traditional Sauna vs Portable Infrared Sauna
Very similar to the traditional sauna, a portable infrared sauna is a small room or container, which is used to increase the body temperature and provides several health benefits including muscle relaxation, detoxification, stress relief, pain relief, improved sleep, strengthened immune system, weight loss, etc. Let us consider the differences between a traditional sauna and a portable infrared sauna.
Traditional Sauna
Traditional saunas are large and fixed in one place. They occupy plenty of space and can't be carried along on your travels. Traditional saunas make use of hot steam to heat the air around you, which in turn, heats your body.
Portable Infrared Sauna
By contrast, a portable infrared sauna is very small, compact and lightweight, (weighing around 40 lb to 50 lb) and can be carried around conveniently. A portable infrared sauna has a very small footprint and does not require a lot of room to be set up. You can use the portable infrared sauna practically anywhere at all, in your living room, bedroom or anywhere else in your home.
A portable infrared sauna has sufficient space for one individual to sit inside the sauna on a folding chair. And, the sauna folds down to a compact size, which you can carry along wherever you go or store after use conveniently.
Portable infrared saunas produce FIR (far-infrared radiation), which increases the temperature of the body directly by making use of infrared light. This is a more efficient and faster method compared to a traditional sauna.
Portable Infrared Saunas and EMF
Portable infrared saunas work on electricity and like any other electronic device, they also produce electromagnetic fields or EMF radiation. So, before you purchase a portable infrared sauna, it is very important to understand how much EMF radiation is being produced by the model you want to buy.
However, unfortunately, there are no portable infrared sauna models that do not produce any EMF radiation. It's just that some models produce less EMF radiation than others. And, you should select a model that has the least EMF radiation levels. The safest levels are up to 3 milligauss.
However, there are not many models of portable infrared saunas available that fall into this category and the ones that are available are quite expensive. Any EMF radiation of up to 10 to 13 milligauss is considered safe and if you find a portable sauna that produces this amount of EMF radiation, then there is no reason to worry. You should avoid any model that emits EMF radiation beyond these levels.
There is a wide range of portable saunas available in the market and making the choice of the best one is becoming increasingly difficult. So, in this article, we will be reviewing 3 of the best portable infrared saunas with low EMFs that you can buy. So, read on to know more.
---
Matt's Cliff Notes: Which Is The Best Portable Infrared Sauna?
(model details further down the page)
Relax Sauna – the hottest of the portable saunas if that's what you're looking for

Pros: most comfortable chair by far, ability to get to the hottest temps, well built, very insulative. Self supportive, no support bar across the front zipper opening. Probably the highest quality package considering the tent material and portability.
Cons: fan noise if that matters to you, not silent. Infrared isn't directly pointed at the body. $1300 price point if budget is a concern.

Synergy Sauna – the best value if price/budget is a concern

Pros: best portable sauna for the money at around $800, heats quickly, low preheat time just like the other two. Zip out washable neck liners.
Cons: so so chair quality, middle of the road foldable chair. Support bar across the front not my favorite, but you get used to it.

Therasage 360 – offers the nir led kit if you like those

Pros: good quality tent fabric, zip out washable neck liners, works well, upgradeable.
Cons: NIR addon light kit is not therapeutic PBMT output intensity for $1,100 PLUS model, but the $900 base model works just fine. Hard wooden chair takes some getting used to. Support bar across the front like most, not deal breaker, but takes getting used to.
---
Top 3 Low EMF Portable Infrared Saunas
Relax Sauna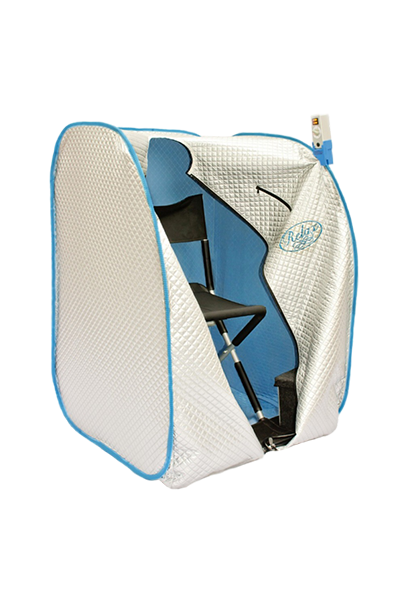 If you're on the lookout for the most advanced personal far infrared sauna, then you could consider the Relax Sauna portable infrared sauna. The Relax Sauna is a firm favorite because it is lightweight and portable. It heats up very quickly using radiators that emit healing far infrared light. In just 15 minutes, you can get a complete body sauna experience conveniently with the Relax portable sauna.
** Note – the updated reviews from the portable sauna showdown will be released in 2021. The Relax Sauna is by far the hottest portable sauna from our initial test group. The lie down unit is in the queue for next week, but out of the portable tent saunas tested so far, the relax is the only one that folds up this small for travel. (the other tents are not collapsible) I get a great sweat in it, preheat time is low, EMF is kept at the feet,
---
Relax Saunas www.relaxsaunas.com/matt-justice
Coupon code: justice for an additional discount (not case sensitive)
Phone orders: 614-262-7087
---
Features
Dimensions: 2.6ft (w) x 2.6ft. (l) x 3.8ft (h)
Weight: 33 lb
2 FIR radiators with a timer switch
Collapsible sauna tent
2 support poles
Folding nylon chair
Comes with a carrying bag
30-day money-back guarantee
Benefits
The Relax Sauna is a high-quality personal infrared sauna tent equipped with an FIR (far infrared) heat source. The sauna makes use of 1,500 watts of energy and produces intense healing light. The Relax portable infrared sauna offers more focused energy of greater wattage compared to other saunas on the market.
The sauna is equipped with ceramic semiconductor chips that filter out all the non-resonating FIR, mid-infrared and near-infrared energies so that you get only pure FIR (between 4 and 14 microns) that resonates with the water cells in your body and helps to pulsate them offering greater detox effects and therapeutic benefits.
The patented and award-winning technology used by Relax portable saunas helps to achieve positive outcomes for various health conditions at a fraction of the cost. The portable sauna comes along with a foldable chair and a carrying case. The sauna has a compact, lightweight and portable design that offers a complete and safe sauna experience right in the comfort of your home.
In conclusion, a portable infrared sauna is an excellent investment if you're stressed out with your hectic life. Not only is a portable infrared sauna relaxing, but it also offers plenty of health benefits with low risk of side effects. Portable infrared saunas are very easy to set up and occupy very little space. However, take care that when you're buying a portable infrared sauna, you buy a model with low EMF emissions, which will ensure that you receive optimal health benefits.
---
Synergy Sauna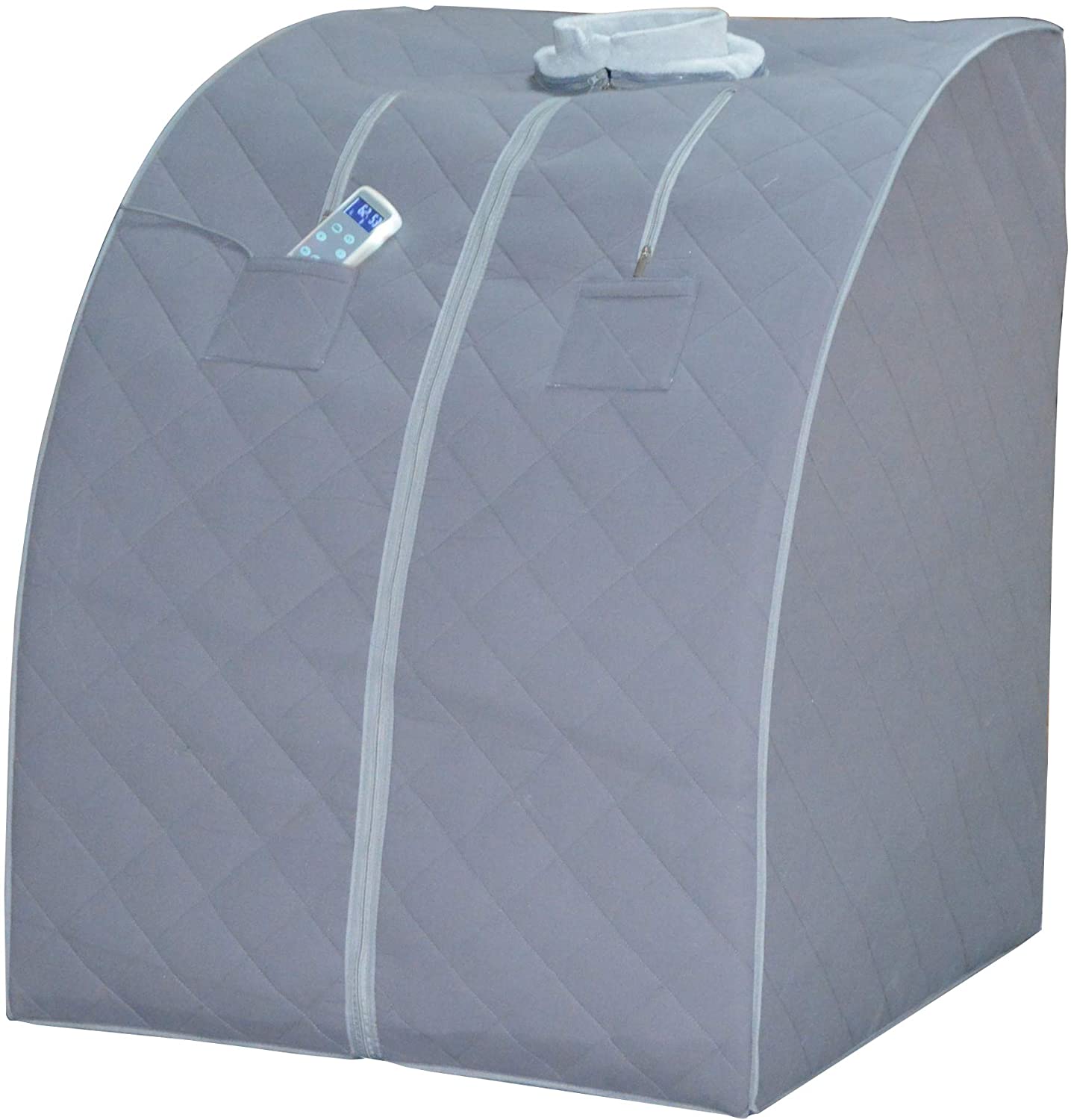 Manufactured by Synergy Science, the Synergy Sauna is a portable, one-person infrared sauna, which makes use of near and far infrared rays with ultra-low EMFs to produce therapeutic heat that penetrates deeply and provides several benefits.
Synergy Sauna Discount Page & Code:  www.healevations.com/synergy-sauna
Use coupon code justice (all lower case) for an additional discount for all subscribers)
Designed for single person use, the Synergy Sauna offers the convenience of being used in the privacy of your home and is extremely affordable too. The portable infrared sauna is extremely easy to set up and use. All you have to do is plug it into your regular power source and start using it.
Features
Dimensions: 27" (w) x 32" (d) x 38" (h)
Weight: 19 lb
Temperature Range: 113°F -140°F
Wavelengths: 4 and 14 μm
Timer Range: 5 min – 95 min
Made of antibacterial bamboo fabric
Two settings—Sauna mode and Therapy mode
Ultra-low EMF and ELF
Full-spectrum heating panels (near, mid and far infrared)
Black tourmaline every 4 inches
For heater with green tourmaline gemstones
In-built ozone generator
Separate temperature controls for foot section and interior heat panels
87% Spectral Emissivity (13% heat and 87% infrared)
Comes with 3 washable and reusable sweat collars
Comes with a foldable portable chair
1-year warranty
30-day return policy
Benefits
The high-quality Synergy Sauna is a full spectrum portable infrared sauna made of eco-friendly, antibacterial bamboo fabric. The sauna has a temperature range of 113°F to 140°F and can reach the maximum temperature in just 5 minutes.
The full spectrum sauna is equipped with ultra-thin carbon fiber ultra-low EMF heating panels with less than 0.3 milligauss emission and the heating panels feature black tourmaline stones on a grid every 4 inches that help to reduce the EMF further. The heating panels offer high heating efficiency that helps you sweat, promotes blood circulation and keeps your body healthy and just 10 minutes of use of the portable infrared sauna is equivalent to 30 minutes of jogging.
The sauna includes oxygen therapy and ozone therapy, features that you can usually find in high-end expensive sauna models. The inbuilt ozone generator helps to keep the portable sauna free of bacteria. The Synergy Sauna has temperature control for the foot section and a separate one for the interior panels. The infrared sauna comes with extra sweat collars that can be removed and washed. The sauna has a portable foldable chair that you can sit comfortably inside the cabin.
Available at a very reasonable price, the Synergy Sauna infrared sauna is very attractive looking and can be set up anywhere in your home. It blends in with the décor of your home and looks so good that you can simply leave it out after use if you want. Weighing just 19 lb, the sauna is extremely lightweight and compact, allowing you to carry it conveniently wherever you go.
---
Therasage Thera360 Plus Portable Sauna
The Thera360 Plus Portable Sauna from Therasage, the world leader in cutting-edge infrared devices, is a high-quality portable infrared sauna that is available at an extremely affordable price. The Thera360 Plus sauna enhances the cell energy and the health of the mitochondria, improves blood oxygenation and microcirculation, enhances the nitric oxide production and supports detoxification and offers excellent health benefits including anti-aging and skin benefits.
Therasage 360 Discount: www.therasage.com/certified-saunas
Use coupon code "justice" (all lower case) for an additional discount for all subscribers)
Features
Dimensions: 33″ (w) x 37″ (l) x 46″ (h)
Weight: 26 lb
Temperature Range: 100oF to 170oF
12-inch extra-long cord
Full-spectrum infrared (red and enhanced near light)
Extremely low ELF, RF and EMF
Made of non-toxic and natural bamboo
Tourmaline stones
Advanced Earthing Technology
LED controller
Bamboo foot pad
Folding bamboo chair
Soft, non-toxic, no-VOC, oversized fold-up cabin
Extra collar made of terry cloth
Comes with a convenient carry case
Certified by DNV (Det Norske Veritas)
Tested for material toxicity and biocompatibility
1-year limited manufacturer's warranty
Benefits
The Thera360 Plus Portable Sauna from Therasage has revolutionized the at-home infrared sauna completely. Equipped with the TheraFusion Infrared Technology and Natural Earth Element full-spectrum heating panels that has natural tourmaline gemstones, the sauna produces negative ions that cover your body completely in the gentle, therapeutic negative ions and full-spectrum infrared frequencies without any exposure to hazardous EMFs, ELFs and RFs.
By shielding all the harmful emissions (EMFs, ELFs and RFs), your body can absorb the infrared waves' healing benefits. The Thera360 Plus Portable Sauna is equipped with Tri-Lite panels that are exclusive LED which produces healing light frequencies in the red-light spectrum (660nm) and near-infrared spectrum (840 nm and 980 nm) for optimal benefits.
The infrared sauna features AET (Advanced Earthing Technology) that boosts the healing experience further by harnessing the Earth's charge to balance the body's polarity and improving cellular communication. The infrared sauna has a temperature range of 100oF to 170oF, which can be controlled with the LED controller.
The infrared sauna is lightweight and compact and can be easily folded and stored conveniently under the bed or in your closet and it comes with a carry bag that allows you to carry your Thera360 Plus Portable Sauna wherever you go. With loads of features and functions and available at a very affordable price, the Thera360 Plus Portable Sauna is one of the best natural detoxification devices on the market.