If you're like most people looking for a home sauna, you probably are super confused by all the marketing gimmicks from sauna companies and sauna sellers. When I was looking for my first infrared sauna, it was a nightmare. Everyone said buy this or that, but they weren't really taking into account the important aspects of this healing device.
Now in 2022, it's even more difficult. We have sale people copying my language, headlines, and even running advertisements using my sauna review videos embedded on their pages. (like they're somehow affiliated, or have tested the products themselves)
Nothing has changed. Don't fall for the nonsense.
In this article, I'm going to help you find the best 4 person infrared sauna for your home or commercial space, so you can avoid wasting time and money sifting through the lies.
Which 4 Person Infrared Sauna Brands Are Recommended?
Of the four person infrared saunas on the market, you may be looking at comparison ads or media from sauna companies like Sunlighten vs Clearlight vs Therasauna vs Saunaray vs Radiant Health vs Dynamic Saunas vs JNH Lifestyles vs High Tech Health vs Healthmate etc… the list goes on.
It'll be the same bait and switch when it comes to EMF. They'll only show you a portion, won't test the body voltage on live video, and generally don't account for bluetooth, electric fields, etc…
Typically they'll defer to something to redirect your attention toward the sauna warranty, heater type, emissivity, or type of wood you should buy.
Most of the time, they're successful in getting you to overlook the shortcomings of whatever they're trying to sell you.
In the end, whether or not you choose basswood or cedar wood, or you pick a ceramic heater type or a carbon heater type, the environment of your sauna matters.
Low EMF and low VOC is important in a healing device. When you buy something like this, you shouldn't be misdirected into believing fake VOC tests, half truth EMF third party testing, and so forth.
These sauna brands listed below, are the best four person infrared saunas on the market compared to the 12 other brands I've personally been inside.
---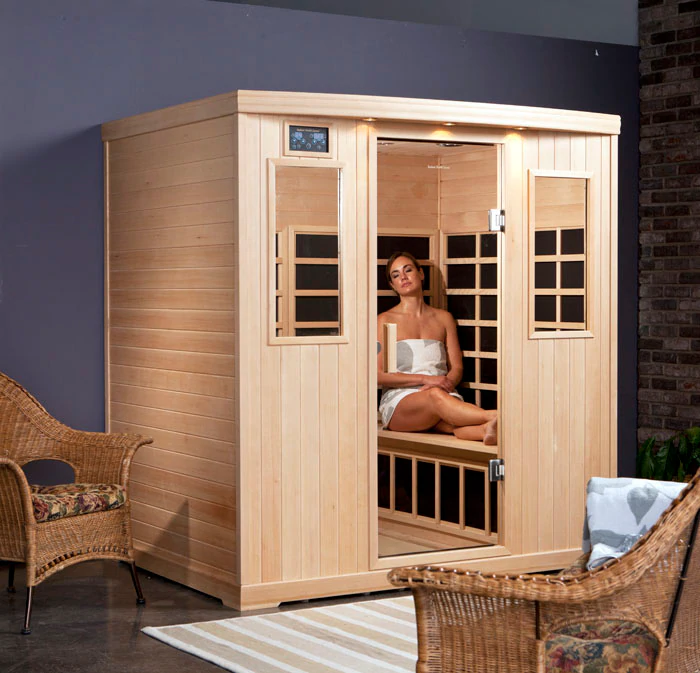 Radiant Health Saunas – E4H Elite Series
The Radiant Health E-4H Elite Model is my choice for friends and family looking for a 4 person sauna with low emf and true low voc.
Unlike a lot of sauna companies, Radiant Health does NOT take bottles of air samples from their saunas, and ship them to an air quality lab to get VOC reading "reports" to sell their products.
The opposable bench design might not catch your attention at first, but this is very important if you plan to use the sauna with family. In a smaller sauna, you sit next to each other. This seems like I'm being overly nitpicky here, but after about 10 minutes, your neck is sore from turning your head to talk to them and you can't really get comfortable.
In a double bench sauna made to seat 3-4 people, you can prop your feet up on the other side when using with only 2 people, and they sit across from others when more family is inside. This isn't unique to Radiant Health, but some other sauna companies still have one long bench across the width of the sauna.
Next, this sauna just plain works. It's the easiest sauna brand to assemble on the market, and has a no frills approach that continues to outlast fancier brands with bells and whistles.
Sure it may not have a wifi controller, bluetooth or smartphone apps, but you also won't have to worry about a fancy LCD controller burning out in this sauna, leaving you sauna-less until it can be repaired like we see with a lot of other brands.
If you want a rock solid class leading 4 person infrared sauna for your home, that's easy to use, simple to install, safe for your family, well manufactured, and is the most reliable product on the market, this is it.
Pros:
Lowest EMF in the industry
NO bait and switch sales tactics from the company
Easiest sauna to assemble bar none
Tile floor insert so you don't sweat onto the wood or through heater grates like other brands
The only sauna on the market with a bench/seat heater (built in switch that toggles on and off at your preference)
NO chromotherapy upsell from the company (waste of time & money, use real PBMT instead)
Cons:
No bluetooth (you can use a smartphone cord to play music from any device, just not wireless)
Price increase & shipping delay since COVID
---
What to watch out for from sales people when buying a Radiant Health sauna:
Hemlock wood is inferior: the wood type has never affected my sweat in any sauna I've ever been in. Some companies use a super strong smelling basswood, which is off putting. Others will say you must have cedar or you'll get mold in your sauna. All false. The only moisture in an infrared sauna comes from your body and dries out from it's own heat.
Lower heater emissivity and wrong micron range output: what no one is telling you, is micron range changes with temperature. So unless you're modulating the output, the micron range changes in every single sauna as the temperature fluctuates.
Child safety guard on heater blocks infrared: this is a funny sales gimmick. If this were true, then all the detox clinics that use towels over the heaters and walls of saunas to protect the next guests from contaminants… the saunas wouldn't work at all.
Heaters above the head are dangerous: not the case. Maybe a little bit of wasted heat away from the target zone, but many practitioners prescribe these for the very reason of targeting the neck and shoulders with heat therapy. No issues on the head exposure.
---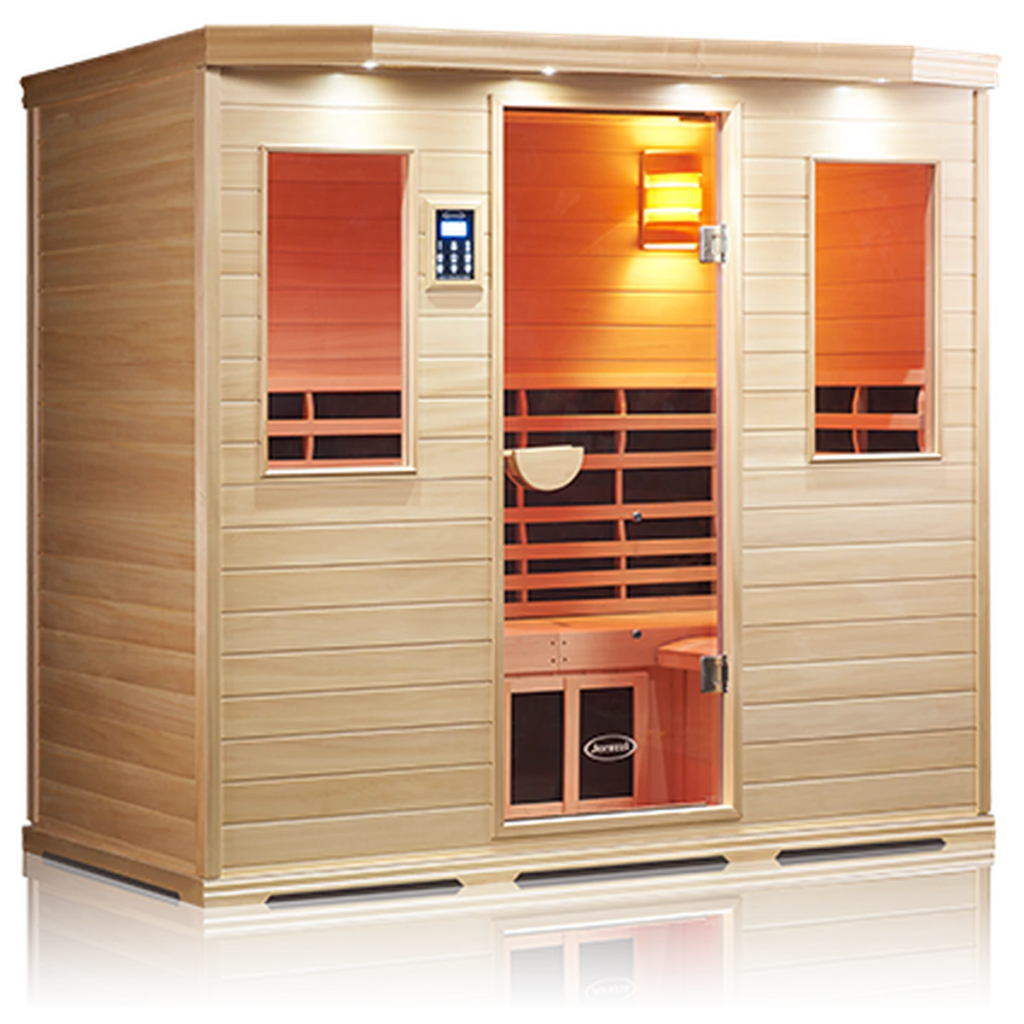 Clearlight Premier IS-5 (watch my newest video release before you buy any Clearlight sauna if you're going to place it in any bedroom)
I'm going to redo the Clearlight talking points.
Since the Clearlight scam dealer last year, and the fact that sales agents are not being truthful about the Sanctuary models, this needs to be redone so you know what you're getting before you buy.
The scammed customer was not credited by Clearlight direct, so I would use the recommended contact on the Certified Sauna list to purchase your model from now on.
For now the cliff notes are, the Clearlight Premier IS4 is comparable to the Radiant Health above, though slightly more expensive for basically the same thing. You just need to watch a couple of things when ordering, and get a good rep that won't feed you a bunch of lines.
It's common for them to say they use special heaters that are combo carbon and ceramic… mostly hogwash. Just ask them how a laminated carbon heater, with less than a 10% difference in overall composition by sprinkling in some "ceramic" particles during manufacturing, constitutes a massive output difference?
Bottom line, most of these points are just used to persuade you the way they want you to go. Everyone has an opinion, and keep in mind I promote Clearlight saunas… they are good. I just don't like it when technical tidbits are misconstrued to make you think a certain way about a product so you'll pay more for it. But if you had both of them side by side in your home, after using them you'd think to yourself… "really? That was what all the hype was about"?
The 4 person Sanctuary models however, are a different animal. I wouldn't place one of these in a bedroom or spare room near children until you watch my setup video. Not a deal breaker, and still a good sauna… there are just details about this that no sauna sales rep is telling you. I didn't discover this until I had one affecting my own home. Full section to come in the buyers guide to show you what to do for this.
The full spectrum bit also didn't check out well in the red light series. The new spectrometer test will bring clarity to this, and show you the bait and switch. This is also one of the things that stops Sunlighten from being on this list, aside from the higher EMF levels.
Again, not trying to deter you from Clearlight here at all. I use them and recommend them! Just the sales tactics and what people are being told on the phone before buying is wrong.
Remember the old trick of: "you need all 3 infrared wavelengths in order to get a complete detox in your sauna"?
Same deal here. Total fallacy.
---
High Tech Health Transcend 3
*note – a Transcend 3 isn't technically a 4 person sauna. However, it's the biggest one they make, and may still work for some people.
There aren't a lot of ceramic infrared saunas with low ELF on the market today. Some mitigate magnetic fields well, but not many have low body voltage and account for electric fields like they should.
For example by comparison, even a Therasauna with their grounded heat shield, still passes electric fields through affecting body voltage. The High Tech Health models test much better, and they also fix the hot and cold spots in all models (even the smallest models).
You want to watch out for this with other brands of ceramic saunas. They only place heaters on the back wall, and ceramic heaters are very directional. So you end up with a cold front, and super hot back, since the lack of frontal, corner, or side wall heater placement is non existent in certain models.
With High Tech Health, they make sure to address this in every model they make.
That said, I'll keep this brief because technically a High Tech Health Transcend 3 is not a 4 person sauna. However, if you're looking for a 4 person ceramic sauna, I would consider this brand heavily, even if it's a tad smaller than you're looking for.
It tests better EMF wise, and is a solid recommendation from practitioners.