Relaxing in the sauna at the spa is probably the most delightful way to ease away all your stress and also get the health benefits. However, with the membership fee, travel costs, etc. the expenses just add up. Fortunately, there is a perfect solution for you. Investing in a portable near-infrared sauna.
In recent years, infrared saunas have become an extremely popular way to relax and detox. And, what's better than having a portable infrared sauna that allows you to relax after a long tiring day in the comfort of your own home, not to mention that it is extremely affordable too.
Near-infrared saunas make use of invisible infrared light wavelengths to deliver energy to the cells in your body directly, which set off a chain of metabolic changes such as enhanced blood flow that provides more oxygen and nutrients, enabling cells to function and regenerate more effectively.
Studies have shown that near infrared therapy helps to heal at the cellular level and can be used as a tool to relieve chronic pain. Infrared light wavelengths are invisible and penetrate the tissues in the body at deeper levels, helping to heal muscles, bones, soft tissues and joints. Approved by the FDA, infrared sauna therapy is completely natural and is becoming increasingly popular for residential use.
There are plenty of different types, models and brands of portable infrared saunas in the market and the choice can leave you quite bewildered of which one to buy. To make things easier for you and make the right choice, we have reviewed the top 3 best portable near-infrared saunas that you can consider.
Top 3 Portable Near-Infrared Saunas
Sauna Comfy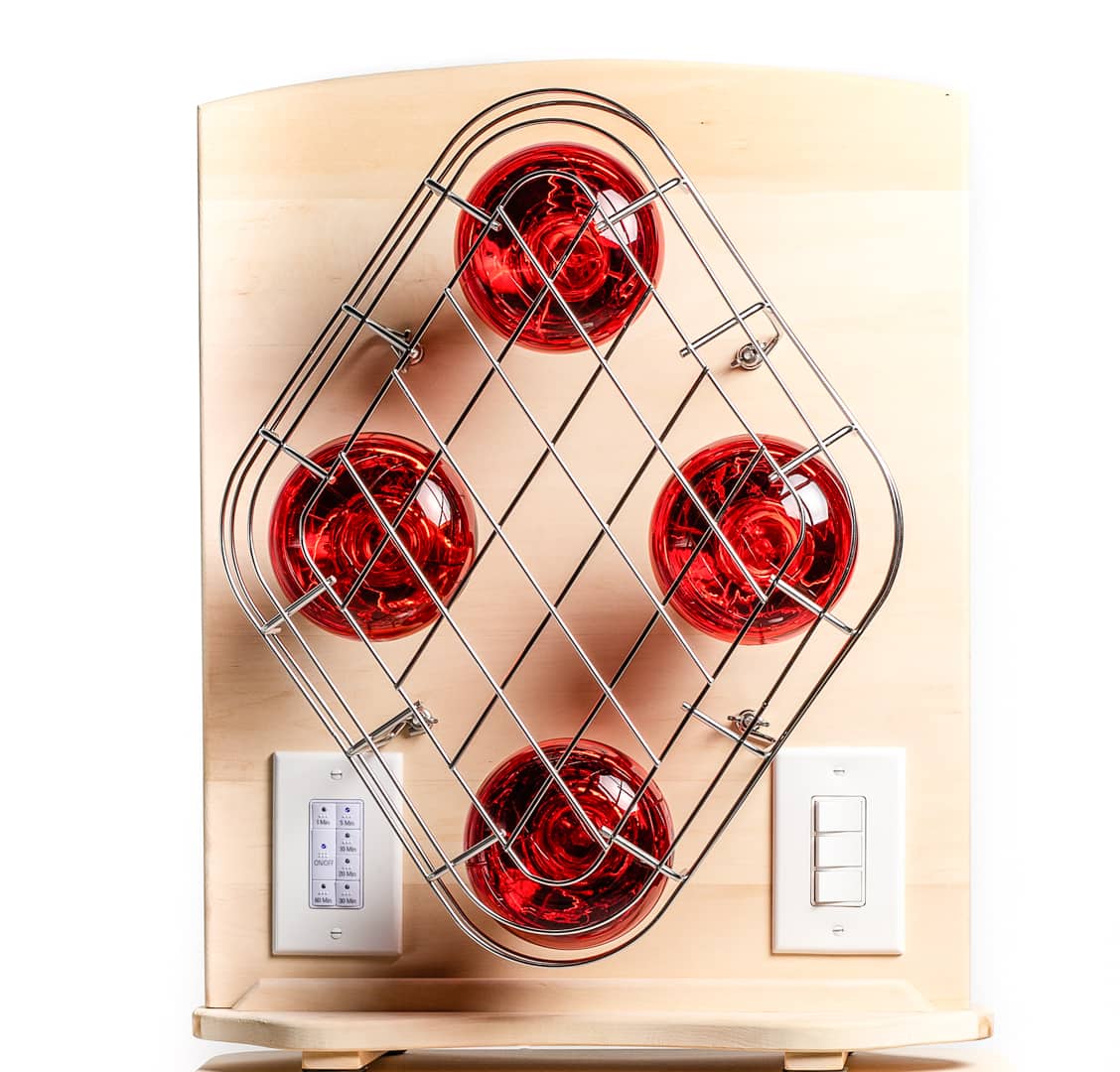 Sauna Comfort is a US-based company that offers a complete range of infrared products keeping your health in mind. The Sauna Comfy is a 100% handcrafted portable 4-light array, which is made from premium-grade Wisconsin basswood lumber and locally-sourced material and parts.
The Sauna Comfy is handcrafted in house and is made to last. The construction does not have any toxic chemicals, no VOCs and no off-gassing materials and practically no EMF. This plug-and-play unit has four 250 W near-infrared bulbs that provide instant warmth.
The Sauna Comfy is equipped with a stainless-steel guard that helps to protect both you, as well as the bulbs. The most convenient feature of the model is the countdown timer with the auto-shutoff, which lets you time your therapy session perfectly without keeping a constant track of time. You can also choose the number of bulbs you want to use in a session 1, 2, 3 or 4 for maximum efficiency.
The Sauna Comfy is compact and portable and you can carry and use it wherever you want conveniently. The unit fits into the 100% basswood sauna unit that is sold separately or you can place it on a stand, countertop, table, chair or hang it with the steel hooks that are included along with the Sauna Comfy unit. The infrared unit is very well crafted, is very compact and lightweight and can be carried around conveniently.
Sauna Comfy Specifications
Made of Wisconsin basswood lumber
100% handcrafted
Portable 4 light array
Dimensions: 20" (w) x 24" (h)
Weight: 17 lb
Power: 8.3 amps
4×200 W infrared bulbs
Stainless steel guard
Light selector
Auto shutoff
Countdown timer
UL-approved electronics and controls
Includes stainless steel hanging hooks
Sauna Fix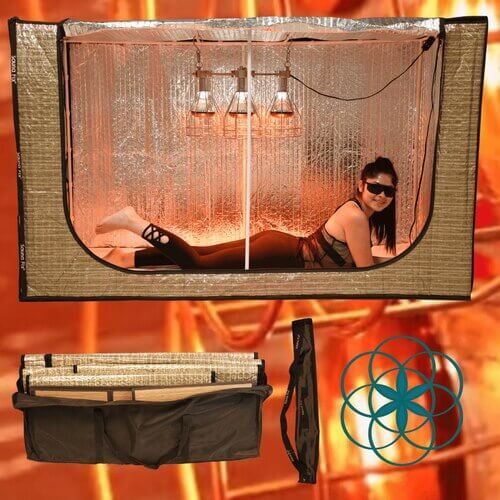 In the market since 2014, the Sauna Fix brand of near-infrared saunas is manufactured by Creatrix Solutions and is recognized as among the highest quality and extremely affordable near-infrared saunas in the market.
The Sauna Fix near-infrared sauna produces near infrared, far infrared, mid infrared and red light. It helps to boost your detox and fitness efforts. The unit features a thoughtful design, great features and a low-EMF rating.
The unit uses a proprietary and non-toxic blend of polymers and metal that do not become hot when in operation. The Sauna Fix is equipped with a near-infrared lamp that is medical grade, non-toxic, portable, energy efficient that offers oxygen-rich, ion-rich and low-EMF sauna sessions at a very affordable price.
The Sauna Fix near-infrared saunas come in two options—Convertible Sauna Tent and Hot Yoga Exercise Sauna Tent. The sauna tents come along with a convertible tent frame along with poles and brackets, radiant tent panels, bamboo mats and a ceiling partition panel that make it extremely easy and quick to set up the sauna without the need for any tools.
The Sauna Fix is sturdy, eco-friendly, versatile and extremely easy to use. The 100% organic tent has a wood grain design and a brown-colored zipper. The panels consist of 5 layers of non-toxic wood grain film, space blankets, non-toxic film and large-diameter bubble wrap.
The tent sauna systems retain around 95% heat and have an 'A' fire rating. The Convertible Sauna Tent allows you to stand, sit or lie down and enjoy your sauna sessions, while the larger Hot Yoga Exercise Sauna Tent has room for any type of workout and it comes with a partition that helps to divide the tent into two chambers, accommodating two people. The Sauna Fix comes with bamboo mats featuring a radiant back.
Sauna Fix Dimensions
Dimensions: 23" x 17"
Weight: 31 lb
100% organic tent
Wooden grain design
Brown-colored zipper
Medical grade
Non-toxic, portable
Energy-efficient
5 layers of non-toxic wood grain film, space blankets, non-toxic film and large-diameter bubble wrap
Read heat lamp bulbs
Convertible tent frame with poles and brackets
Radiant tent panels
Bamboo mats
Ceiling partition panel
Near-infrared eye protection glasses
Tent frame bag
Sauna travel bag
Tent panel bag
UL, RoHS and CE certified
Sauna Space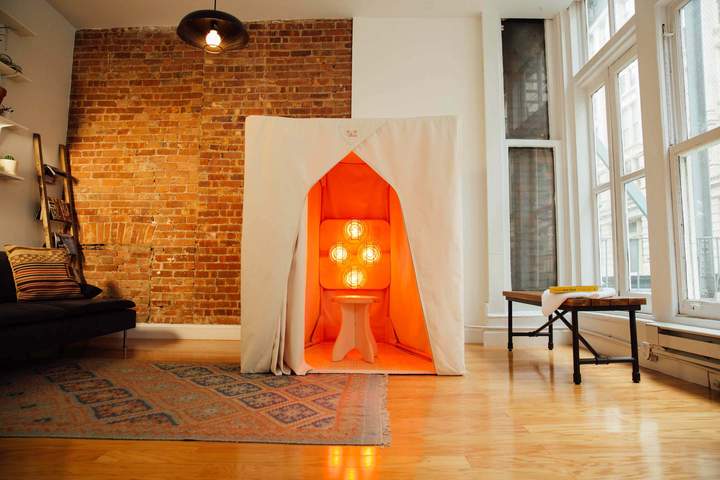 The Luminati is the near-infrared sauna tent from Sauna Space. Emitting zero EMF radiation, the Sauna Space sauna is one of the best near-infrared saunas in the market. Featuring the Thermalight technology, Luminati sauna produces full-spectrum detox and healing wavelength.
The premium quality and intelligent design of the Luminati sauna offers the most transformative and safest healing that you will ever experience. Made in the U.S., the near-infrared sauna is fully handmade and makes use of 4 high-power zero EMF near infrared tungsten heat bulbs fixed on a ready-made panel inside a tent enclosure that is made of top-quality natural materials.
The Luminati sauna is made of 100% natural materials i.e. zero VOC hypoallergenic bamboo and wood and chemical-free cotton. The sauna comes with a handmade stool that you can sit on and enjoy your sauna therapy sessions. The lamp guards and hardware are made of steel chrome that is not powder-coated or treated. The lamp guards are equipped with thin mesh that prevents overheating and burns.
The Luminati sauna produces irradiance of up to 89 mW/cm2 on the entire body and produces therapeutic-grade mitochondrial stimulation. Extremely easy to set up and use, you can plug the infrared sauna anywhere into any regular power outlet. The sauna is extremely affordable to operate and costs only around $0.16 per hour. The compact sauna is very lightweight and the space-saving design allows you to install it anywhere at all and use it.
The Luminati sauna is extremely portable and you can simply disassemble it after use and carry it wherever you want or store it away when not in use. The world's only zero EMF near-infrared sauna, Luminati sauna has an elegant, minimalistic and modern design with the highest safety ratings is guaranteed to provide you with perfect relaxation.
Sauna Space Sauna Specifications
Dimensions: 63" (h) x 52" (d)
Entrance Width: 52"
Weight: 55 lb
4 zero EMF near infrared tungsten heat bulbs
Height adjustable light panel
Irradiance: Up to 89 mW/cm2
Made of hypoallergenic materials—bamboo, wood and chemical-free cotton
No blue or UV light
No flicker stress
Zero EMF
Comes with a handmade stool
100-day money-back guarantee
Whether you're looking for an inexpensive near-infrared sauna unit for your home for any purpose, be it for reducing chronic pain, for its anti-aging or detox properties, for sports recovery or to treat any other serious condition, you must agree that this form of therapy offers great benefits for several users. The 3 near-infrared saunas that we have reviewed in our article today, Sauna Comfy, Sauna Fix and Sauna Space are excellent choices for those who want to experience the health and relaxation benefits of near infrared light therapy.
However, before you go ahead and purchase a near-infrared sauna unit for your home, there are a few factors you must consider such as the ease of use, weight and portability of the unit, ease of installation, design, EMF radiation and safety. Your choice of the best portable near-infrared sauna will also depend on the availability of space and your budget and you may prefer a compact, small-size sauna if you have limited space.
We hope that after reading our detailed review of the top 3 portable near-infrared saunas, you will have sufficient information that will help you make your choice of the best infrared sauna for your home.